Don Giovanni, Opera by W. A. Mozart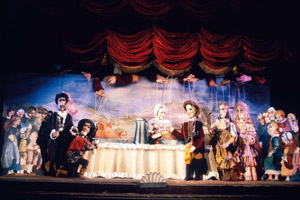 The magic of puppetry and the music of Wolfgang Amadeus Mozart each hold a special place in the heart of the Czech people. So it is no surprise that Don Giovanni, a work that saw its world premiere not in Austria but in the capital of the old Habsburg Kingdom of Bohemia, should feature so prominently in the repertory of the Národní divadlo marionet, the National Marionette Theatre in Prague.
Mozart was a master of surprise and one can suppose, with the confidence that he had gained from the great success of The Marriage of Figaro in Prague the previous year, that he was ready to deliver a theatrical blockbuster. Don Giovanni is a work that pulls out all the stops and which, thanks to its final climactic scene, still has the power to shock audiences today. The opera's anti-hero, Don Giovanni, is a libertine who wreaks utter havoc with the lives of those around him until the ghost of one of his victims returns to exact a hellish retribution.
Prague audiences hailed Mozart, the genius from Salzburg, as one of their own. The staging of the first performance of Don Giovanni at the Estates Theatre on 29 October 1787 was a significant coup not just for the theatre's impresario but for the country as a whole; a statement of intent that confirmed Prague's place amongst the great world centres of opera.
At the same time that Mozart was composing and performing for the elites in Prague, troubadours in the surrounding countryside were visiting village communities with their own puppet shows. Throughout the nineteenth century and well into the twentieth century, their entertainments played an important role in sustaining the language, customs and folklore of a people beset by the tumultuous events that reshaped Europe. What they began formed the basis of an art form that has taken hold in the Czech Republic more than in any other country on the continent.
In its brilliant adaptation of Don Giovanni, The National Marionette Theatre, which was established in 1991, and which has become such an integral part of Czech culture, celebrates both its city's most famous adopted son, Mozart, and its people's love of puppetry, a centuries-old tradition for which Prague is rightly renowned across the world.